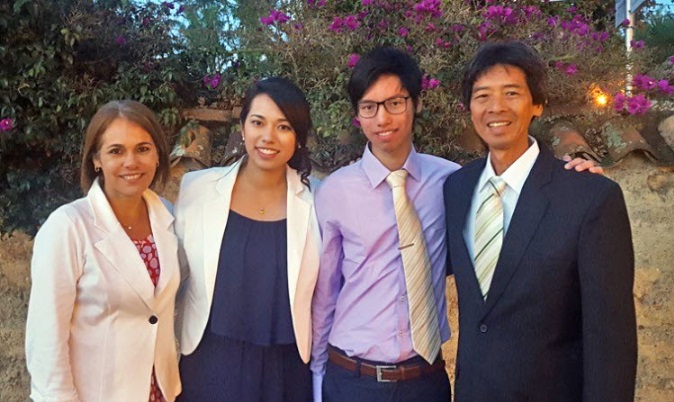 One day in 2008, I watched a pastor's sermon through Enlace TV, and it was so gracious and impressive. He was Dr. Jaerock Lee, the Senior Pastor of Manmin Central Church in Seoul, Korea. The sermon was unlike anything I had ever heard.
It is because he told us how we could receive blessings from God and how important it was to sanctify our hearts. Yet, other pastors do not tell us the secret, but simply say that once we believe in the Lord we will be blessed.
My wife and I continued to watch Dr. Jaerock Lee's sermons through the Enlace TV, and we received a lot of grace.
In the meantime, our children moved for study to Bogota, Colombia in 2010, and in 2013 they came to know that Manmin Church was there.
We went to Colombia to visit Manmin Church. And with the help of Pastor David Jang, we got to know more about the Senior Pastor Dr. Jaerock Lee's ministry and understood the depth of his sermons.
We told our children to attend Columbia Manmin Church. After that, I attended the anniversary event of Colombia Manmin Church and received many blessings, and became longing for Manmin Church even more.
And in 2017, I visited Manmin Central Church in Seoul with my elder sister, son, and daughter to attend the Manmin Summer Retreat. There, I was amazed at the works of God as I witnessed many works of healings, demons' being cast out, and etc. Even though it was a hot summer, the place for the retreat was cool as the wind was blowing at the appropriate temperature, and I had a happy experience with the dragonfly sitting on my hand.
When I visited Manmin Central Church myself, I could understand and realize how great the ministry of the Senior Pastor, and how God has led him and this megachurch.
Before joining Manmin, I didn't pray almost at all. But now I know the importance of prayer and what fiery prayer is, so I am leading a diligent prayer life. As I didn't know what it was to keep the Sabbath fully, I thought that if I worshiped once I did it well. However, while listening to the sermons of the Senior Pastor Dr. Lee, I realized that I was not living a good Christian life. In the workplace, as I thought material matters were important, I sometimes raised my voice when I suffered damage due to an employee's mistake. However, after looking back on myself with the Word of truth and realizing that I had to put God first, I have not even felt to do such deeds.
Although my wife attended church, she was not diligent in her Christian life, but now she's attending various services and caring for the church and the members a lot. My daughter Benying was arrogant and had no interest in church work before, but now she is humble and diligent in the work of the Lord. My son Daniel enjoyed playing video games and was not interested in religious life, but he came to love God and became an obedient son to the Word.
Our couple attended the worship service of Colombia Manmin Church online from Venezuela. In the meantime, 14 people gathered at my house for worship, and in January 2019, we prepared the Panamericano local sanctuary.
In March of that year, Pastor David Jang had his third mission trip to Venezuela. During his visit, he stopped by our local sanctuary and led the divine healing meeting. At this meeting, many people were healed and we glorified God greatly. As people saw and heard that it is a church where the power of God is manifested, they experienced the works of healing through the Senior Pastor Dr. Lee's recorded prayer for the sick and David Jang's prayer by phone.
The evangelism team consisting of women members preached the gospel diligently every Sunday. All the members fasted on the first Saturday of every month, and the leaders fasted half a day on Sunday and worked hard for the Lord's work, so the number of the members gradually increased.
Then we felt the need to build a bigger sanctuary. After discussing with the members, we started to work for the construction of the sanctuary. We had to prepare a land first, and in time, my nephew had to sell his land, and the land was very suitable for our sanctuary. So, I purchased it at a good price.
The donations from the members of the local sanctuary and overseas members were helpful to some extent, but due to the economic situation in Venezuela, we lacked in many things. However, we worked hard to prepare the sanctuary with one heart. The members participated in the construction work, and my children donated necessary electronic items and supervised the construction work.
My wife, who is running a hardware store, prepared the materials needed for the sanctuary construction in advance and made it possible to purchase them at an affordable price.
As we put all our heart and soul into building the sanctuary, all the members' longing for the sanctuary increased, so we could prepare for it with prayer with faith. Finally, we finished building a sanctuary of 727 square meter size, including the parking lot and other facilities.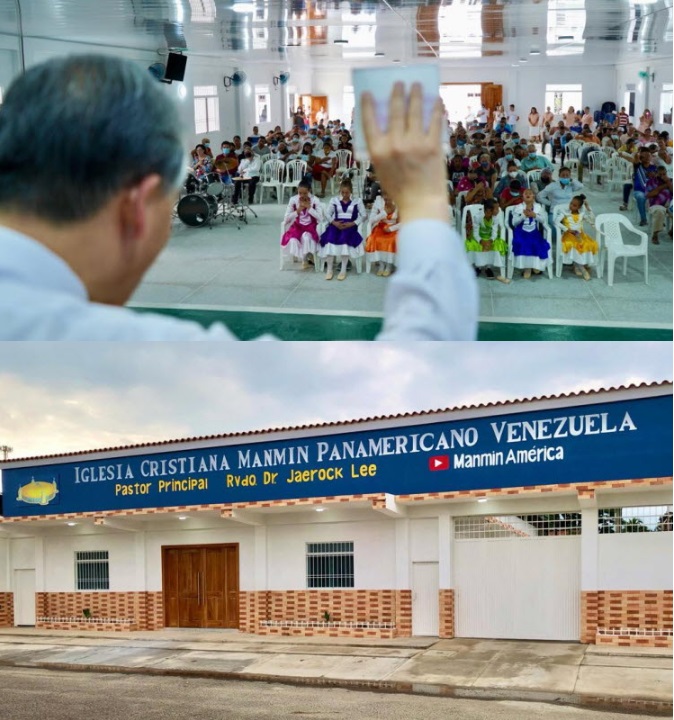 On Sunday, December 5, 2021, we had a dedication service with Pastor David Jang. It was so thrilling. All the members were filled with joy, and they felt rewarded and happy to be able to build the house of God. After that, the members have overflowing joy in their hearts, they're praying more fervently, and are filled with God's love.
In 2022, we want to revive the church more and participate more passionately in Manmin ministry. It is because we hope that more souls, not just us, will be able to live according to God's Word, and be blessed both physically and spiritually, and enter the most beautiful heaven, New Jerusalem. I give all thanks and glory to God our good Father. Hallelujah!