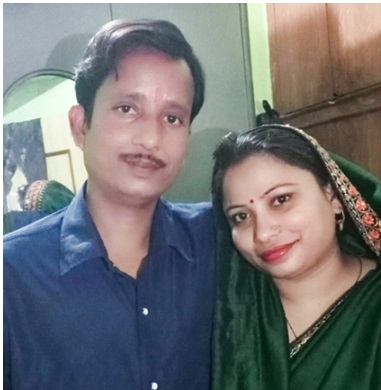 I had problems with my spine while taking care of my husband, and I couldn't sit for a long time due to the pain, and it was difficult to breathe. My husband (Sunil Kumar, Age 35) suffered from an accident in walking problems that later developed into spinal disc and degenerative lumbar disease. Due to financial difficulty, my husband had to live in pain without proper medical treatment, and my family suffered more difficulties.
In the meantime, I barely prepared money for my husband's medical examination, but I heard that there was no guarantee that he could be completely cured even with surgery, and that he could become permanently disabled. My husband underwent surgery in January 2022 with the feeling of grabbing at least a straw, but the result was not good, so he could not sit up or walk. Even when he went to the bathroom, I had to carry him in my arms. As a result, I got problems with my spine.
One day, my husband heard from a neighbor that "Jesus heals diseases." After that he searched for 'prayer for patients' on the Internet and found Dr. Jaerock Lee's "Prayer for the sick" video on the YouTube channel 'GCNTV HINDI'.
At that time, my husband, who was having such a hard time, said he was going to commit suicide if he could not be healed after attending church for about two months. However, after receiving Dr. Jaerock Lee's prayer for the sick, her heart felt at ease and he had the hope of being healed.
So, after seeing the contact information of Delhi Manmin Church posted on the YouTube video, we called and heard the gospel of Jesus Christ. We repented and received the prayer to receive the Holy Spirit.
Afterwards, with the kind guidance of Delhi Manmin Church, we attended the Daniel Prayer Meeting of the Manmin Central Church online on May 25, 2022, with the hope that we could receive answers from the Lord. And after the prayer meeting, an amazing thing happened. My back pain, which I had suffered for over four months, had completely disappeared, and there was no problem even when I sat for a long time, and there was no problem in breathing. Hallelujah!
Not only that, but my husband's condition also improved, and he was able to go to the bathroom on his own and go up the stairs by himself. In the meantime, he was anxious and suffered in fear that he would be abandoned because he could not do anything on his own, but now he is happy that his condition has improved and his daily life is possible. In India, through 'GCNTV HINDI', we attend worship services of Manmin Central Church in Korea and lead a life of faith filled with the love of the Lord.
I give all thanks and glory to God who is alive and heals our diseases.