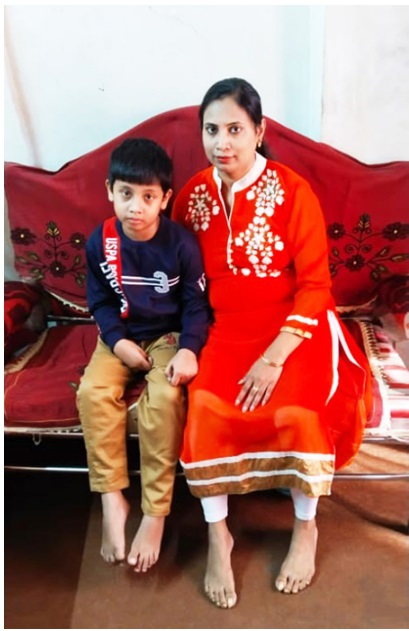 In 2019, even though my son Shrinjoy became three, he couldn't speak except "Mom! Dad!" My husband and I thought it was strange, and took him to the hospital. And we were shocked to hear that he had autism. I didn't know what to do in the sadness that seemed like the sky was collapsing.
One day when I was having a very painful time, I came across GCNTV HINDI and Delhi Manmin church while searching YouTube. However, we attended worship service only formally.
In 2020, Shrinjoy became four and entered school, but he always tried to be alone without hanging out with other children. His teacher said that he did not answer when called, did not speak, and did not pay attention to studies, which interfered with other children's study.
The principal said that he should be sent to a special school for autistic children. Even the doctor said he should be sent to a special school. It was very painful for me to have to send my son to a special school.
When we faced this situation, my husband and I came to rely only on God. We attended worship the Almighty God with all our hearts, earnestly hoping that our son would be healed. As I received great grace from the sermon of Dr. Jaerock Lee, Senior Pastor of Manmin Central Church, my life of faith changed.
I wanted to know more about God's will while keeping the Lord's Day wholly and giving whole tithe, so I listened to many sermons of Dr. Jaerock Lee, such as 'The Message of the Cross', 'The Measure of Faith', and 'Goodness'.
In the meantime, I found the key to answers and was overjoyed as if I had found a treasure. That is, I heard the words, "There are cases in which children show autism due to the sins of their parents."
As I listened to the words, I tried to understand what kind of parents' sins caused my son to have this symptom. On the day I participated in the "Zoom Meeting" led by Pastor John Kim of Delhi Manmin Church, while listening to the sermon, I realized that 'adultery' was the problem, and I repented of it thoroughly with tears.
In 2021, after receiving prayer through GCNTV HINDI at the divine healing meeting led by Dr. Soojin Lee, Acting Senior Pastor, I was healed of my arm, which could not be raised or bent back due to pain. As I personally experienced this work, I became more desperate for healing of my son's autism.
During the 2022 Manmin Summer Retreat, I began to pray earnestly for my son's healing for sure. Then, by God's grace, I was enlightened, and I forgave the person I hadn't forgiven, and my husband also repented of his sins.
On August 1, 2022, the Manmin Summer Retreat began. Through GCNTV HINDI, my husband and I receive the Acting Senior Pastor Dr. Soojin Lee's prayer for the sick with faith during the divine healing meeting.
After that, a miracle happened in our family. When I called, "Shrinjoy!", he looked at me, answered my questions, and expressed his opinions by making sentences.
My neighbors look at my son and rejoice that he doesn't look like an autistic child. My mother-in-law also accepted the Lord and is joining us in worship of Manmin Central Church through GCNTV HINDI. Hallelujah!
I give all thanks and glory to the Triune God who clearly showed the way of healing and answers through Dr. Jaerock Lee's precious sermons and led us to the way of blessing.