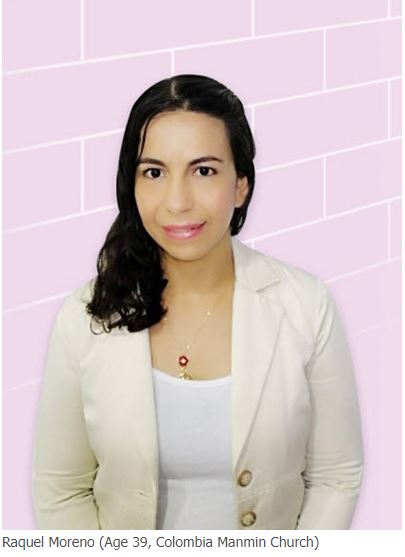 News > Testimony
| Manmin News No. 694 | HIT 910 | DATE 2021-05-23
"I've been healed of chronic gastritis and eye disease."
Raquel Moreno (Age 39, Colombia Manmin Church)
I had a vision problem for years. The sunlight or light from the bulb made my eyes very uncomfortable; I had severe stinging pain in my eyes; and the headache made my daily life difficult and uncomfortable.
Also, I had many stomach problems for 16 years, so I was suffering from gastritis and soreness. But I left all to God believing that He would heal me.
One day, I heard the good news that Online Divine Healing Meeting for people in Latin America would be held. I prayed and prepared for it with anticipation, and I was convinced that I could be healed.
I attended the meeting on the YouTube channel of Colombia Manmin Church, and received the prayer of the speaker, Mrs. Boknim Lee of Manmin Central Church with the handkerchief of Power(Acts 19:11-12). I felt joy in my heart, and I felt heat in my eyes and neck.
And then, gastritis and soreness disappeared and the vision problem was also solved. I give all thanks and glory to God the Father of Love, who responded and healed me as I believed.