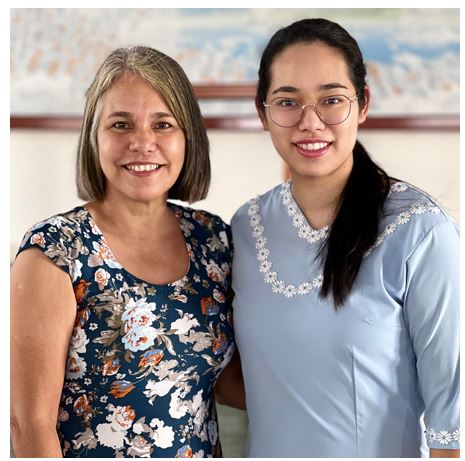 I had suffered from breathing difficulty since 2005. At first, it happened lightly two or three times a year. However, as time passed by, the symptoms got worse.
Even when I drank water or while cooking in the kitchen, I had shortness of breath. I also had this symptom on the street and it too some hours to get better. As a result, I was afraid to be alone, and later I had trouble breathing even while sleeping.
In 2008, I listened to Dr. Jaerock Lee's sermon through Enlace TV, following my husband, who received a lot of grace from his message. In 2013, I got to know Colombia Manmin Church, and my daughter Benying and son Daniel, who lived in Colombia for study, went there. We used to attend church events too. But I wasn't live a good Christian life.
Whenever I had trouble breathing, I used to get over the crisis by receiving Dr. Jaerock Lee's recorded prayer for the sick. My family worried about me a lot, and especially my daughter Benying said, "Mom, when I go to Venezuela, I will pray for you with the handkerchief of power."
At that time, I did not understand the handkerchief of power(Acts 19:11-12). Even though I had the experience of being healed of leg pain and other diseases through the handkerchief prayer of Pastor David Jang of Colombia Manmin Church, I did not fully believe in the word of God through it. Rather, I felt it unfamiliar and had doubts.
In June 2018, my children in Colombia came home after a long time, and I slept happily that night. But in the early morning, I had trouble breathing. I woke up and got up, but I couldn't breathe. I thought, 'Oh, this is how I die.' My family woke up with a start.
My daughter Benying brought the handkerchief of power on which Dr. Jaerock Lee had prayed, put it on me and prayed for me. At that moment, I could breathe. And then, I recovered breathing and became stable. My family and I thanked the Lord. I asked my daughter to borrow the handkerchief, and that night I fell asleep with it in my arms.
That was the last night I had trouble breathing. After this, my faith has changed completely.
As I was given spiritual faith through the experience of God's love and power, I am now praying fervently to live by the word of God the Father, and trying to achieve a heart of sanctification.
I give all thanks and glory to God the Trinity who leads countless souls to the way of salvation through amazing works of power.