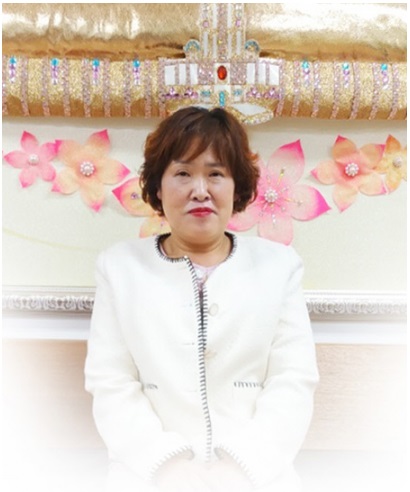 I run a 24-hour convenience store, and there are times when I work at the store for more than 15 hours a day, and sometimes I work for a long time without being able to sit. In this situation, 2 years ago, I got rheumatoid arthritis.
When I work up in the morning, my fingers were stiff, the pain and swelling continued throughout the day, and my joints were twisted and deformed. I couldn't bear it, so I went to see a doctor and took the prescribed medicine, but the pain didn't go away, so I had to live in pain all over my body every day.
Then, when I heard the good news about the 2022 Manmin Summer Retreat, I prepared with longing. I wanted to please God the Father, so I thought of those who could not attend the retreat due to financial circumstances, and sponsored the membership fee for them. I also participated in offering flowers on the altar. I tried to plant and act with faith like this to become strength for the church.
On the first day of the Manmin Summer Retreat on August 1, 2022, I received grace from the arrival service as much as I prepared with longing. After receiving the Acting Senior Pastor, Dr. Soojin Lee's prayer for the sick, the pain from rheumatoid arthritis was greatly relieved. On August 21, after attending the Holy Spirit prayer meeting at Ansan local sanctuary and receiving the prayer from Mrs. Boknim Lee, Director of Manmin Prayer Center, even the remained little pain completely disappeared. Hallelujah!
In this way, with the blessing of restoring my health by God's grace, I had an amazing experience of being protected in a moment of crisis by the great love of the Lord.
On Friday, October 21, at around 5 pm, I received a text message saying that the government would provide loans form 50 million won to 200 million won for small business owners in need. The interest rate was 1%, and it could be repaid within 10 years.
I needed money just in time, so I called the number in the message thinking that it was a good deal. They told me to call again after 30 minutes. When I called 30 minutes later, they said that I needed to install some apps for my credit check to see if I could get a loan. I followed what they said, and installed two apps. And it was when we were talking that we could find out if I could get a loan by installing just one more app.
At the moment, the sound of the Senior Pastor Dr. Jaerock Lee's prayer for the sick was suddenly heard. The person on the phone told me to turn off the sound and he would call again. At around 5:50 pm, he called again, and the Senior Pastor's prayer sound was heard again. He hung up the phone telling me that he would call back on Monday because the bank is closing at 6 pm.
Afterwards, I told my acquaintance about this situation, and she said it was like voice phishing. Surprised, I called 112, and two police officers immediately came. After they heard the situation, they said, "If you installed the last one app after installing two apps on your phone, up to 700 million won could have been withdrawn, but heaven helped you."
In fact, I was not able to give whole tithe while running a 24-hour convenience store, but after repenting before God, I have been giving whole tithe since last September.
I give all thanks and glory to the Triune God, the Father, the Son, and the Holy Spirit, who enlightens me with love, protects me, and guides me on the path of healing, answers, and blessings.