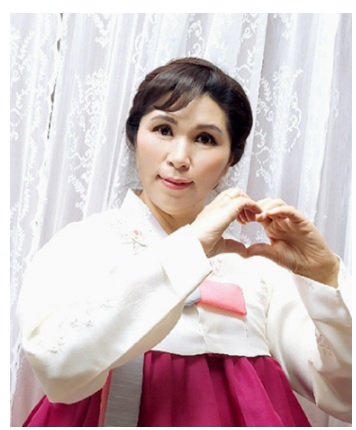 On November 19, 2022, my left wrist felt tingling and painful while stretching, but I didn't think it was a big deal. But the next day, while washing the dishes, the pain in my left hand was so severe to make me say, "Oops!" and I missed the bowl.
When I checked it out in the hospital, it was 'ulnar deformity'. The ulna is the innermost of the two bones that make up the forearm, from the elbow to the wrist.
The doctor said, "The bone is deformed and bumped whenever you move, causing inflammation, so you need to take medicine, receive physical therapy, and wear a brace to keep your left hand from moving. It takes a long time because the bone is deformed, and surgery can be performed after seeing the progress."
After that, even though I took all the prescribed medicines, the pain did not go away and I had to keep wearing the brace, so it was very uncomfortable and frustrating. Moreover, my husband had his left thumb nerve cut while working on a mold and was hospitalized after surgery, and my second son had been wearing a cast on his arm for two weeks, so it was really embarrassing. Probably because of many stresses, I had trembling eyes and my stomach felt sick as if I was going to vomit whether I ate or not.
There is something I never forget and am always grateful for, and think about. When my daughter was three years old, she suffered burn on her left arm due to the hot water from the water purifier. After receiving Senior Pastor Dr. Jaerock Lee's ARS prayer for the sick and applying Mu-an Sweet Water on her arm, she was completely healed without a single scar (upper right photo).
Reflecting on God's grace, I decided that I wanted to be healed at the Divine Healing Meeting in November, and prayed earnestly in praise. I repented with tears thinking about how I had judged others, felt sad, and hated others.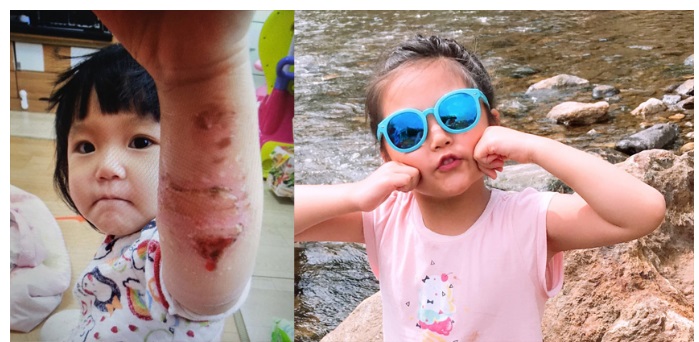 At last, on November 25, I attended the Friday All-night Service held as the Divine Healing Meeting through GCN. When the Acting Senior Pastor Dr. Soojin Lee prayed for patients, I received the prayer earnestly, and after the prayer, I tried to turn my left wrist and there was no pain at all. Also, the symptoms of trembling eyes, stomach soreness, and nausea that made me feel like vomiting completely disappeared. Hallelujah!
In order to recover my first love, I have been trying hard to be faithful and serve, longing to glorify God with my testimony by meeting and experiencing God. Then God answered me. He also gave me a gift as a bonus.
I had severe dry eye syndrome for 3 years, so I had to put strength on my eyes, and accordingly, whenever I had a headache, I had to take Tylenol, 2 pills morning and night, 4 pills a day.
The ophthalmologist at the university hospital said that my dry eye was so severe that they were not like human eyes. He also said that everything that looked white around the whites of my eyes was inflammation, and that once eyes are damaged it is difficult to recover, so I must continue to receive treatment.
However, after receiving prayer, my dry eye symptoms improved, the feeling like grains of sand in my eyes disappeared and my eyes came to feel comfortable. I didn't think of healing of dry eye syndrome but I only received prayer for the healing of left wrist pain, but God healed this too. Through this, I felt God's kind and delicate warm love, allowing me to move forward more with all my strength.
I give all thanks and glory to the loving God the Trinity who knows my circumstance and heart and who blessed me with answers and healing.