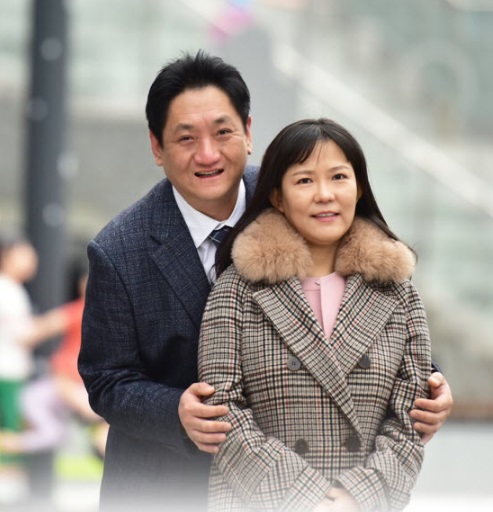 At the end of 2017, the CCTV business I run faced difficulties, and a crisis of closure in March 2018. I was so afraid to even face the morning at that time.
I attended the 'Special Daniel prayer meeting', which had been held since February 26, and prayed earnestly repenting of my past life.
I repented that I did not completely obey God's Word and that I lived my life according to my own will and the way I wanted although I had been attending church for a long time. When I thought of Senior Pastor Dr. Jaerock Lee, who always taught us to live according to the word of God and guided us with love, I felt so regretful and embarrassed. I earnestly prayed, "Please help all my family members live a good Christian life even in difficult circumstances." That night, I saw Senior Pastor in my dream.
In the dream, someone told me that the Senior Pastor was waiting for me, and I followed him. Senior Pastor was fishing in the lake, and when he saw me, he gave me a fishing rod. But even though I lowered the fishing rod for a while, I couldn't catch a single fish. Senior Pastor Dr. Lee caught a lot of fish, cooked them deliciously for me, and said, "Take some with you when you go home." After I had that dream, my heart was at peace. After that, government policy funding was approved and I was able to operate my factory again.
I made up my mind to follow God's way, not my own. However, I did not know what God's way was specifically. One Saturday in December 2018, I was watching the Special Praise Meeting led by acting Senior Pastor Dr. Soojin Lee. And unlike any other time, her comment greatly touched my heart, and I came to repent thoroughly with tears. God greatly enlightened me through what I had decided the previous day, because I wanted to run my business according to the way of God the Father.
I prayed, "Father God! I am so foolish that I do not understand the will of God, nor do I hear the voice of the Holy Spirit well. From now on, please let me hear the way You are pleased with through my ears." After that, God helped me to hear various advice of faith from my elder sister, Senior Deaconess Eunjung Kim. I engraved those words in my heart and loved to follow the way that God pleases.
At the end of 2019, I heard from my elder sister that the Children's Sunday School needed a supporter, and I recommended my wife, Deaconess Sung-Ae Lee. Looking back now, it seems that God let us prepare the vessel for blessings starting with this.
In the beginning of 2020, I had a chance to receive prayer from Acting Senior Pastor Dr. Soojin Lee. It went well and I was greatly blessed. Even though 2021 was a difficult year for everyone due to COVID-19, I felt that God was protecting me with love and blessing.
On June 7, with the advice of my Parish Pastor, I and my wife received prayer from my Great Grand Pastor with the handkerchief of power on which Dr. Jaerock Lee had prayed(Acts 19:11-12), and two days later, we received the blessing of an unplanned bulk order. However, during the material inspection process, I got a call from a semiconductor company I was dealing with. I was told that it would be difficult to supply with semiconductors. At that time, the global semiconductor supply was not good.
After I receive the Great Parish Pastor's prayer on June 12, I looked for what would please God in prayer. Then, the church event, 'Manmin Praise Contest' came to my mind, and I gave offerings for it on June 15. Surprisingly, the next day, the semiconductor volume was secured from Taiwan and China, so my company was able to deliver goods normally.
At the Divine Healing Meeting on September 13, I remembered my lacking by the love of God, and received the grace of repentance. Then, while receiving Acting Senior Pastor's handkerchief prayer, the holy fire came upon me. Two days later, something amazing happened.
I heard from a Japanese buyer that there might be an opportunity for my Japanese partner to supply CCTV products to a large company. The product was using my company's camera, so my company was put under actual inspection. Something I could not even imagine happened by God's grace.
On October 10, after receiving the prayer of my Great Grand Parish Pastor, I passed the actual inspection on the 12th, and I received the second order to make many profits on November 20. The greater blessing is that the export route has been opened for many years to come, as they want continuous trading with my company. Hallelujah!
I give all thanks and glory to Father God of love, for guiding me on the path of blessing when I depended on God and obeyed to please Him.