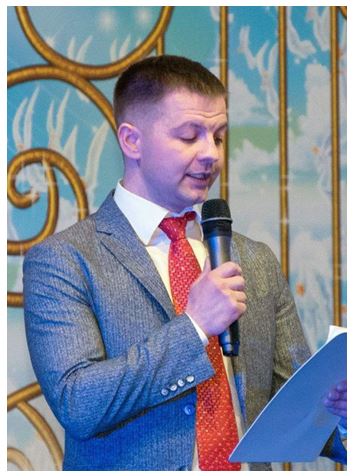 First of all, I would like to thank the Lord for leading my life and for leading me to change into the gospel of holiness by meeting Dr. Jaerock Lee.
Since I was little, my will was strong and I had a personality that couldn't tolerate injustice, so I often fought. As a result, my heart became hardened, and I started living after the world. I lived in darkness in a sinful world, but I didn't even know it was a bad thing.
I thought true love didn't exist. Even after receiving the Lord, if the lyrics, "Lord, I love You!" came out during praise, I couldn't not sing it properly. I thought, 'I can't feel the love for the Lord in my heart, how can I praise that I love Him? I can't lie like that.'
One day, my brother Alexander Tabaranu called me and talked seriously about God. It was the first time I saw him like this and I was very angry with him. He was also stubborn like me, but when he spoke about God in a humble manner, I felt something strange.
As time passed, I saw the sincerity from him, and I felt that I should check what he was saying. I started praying to God because I didn't want to go to the church and say I believe in God without certainty.
Then my brother asked me to listen to Dr. Jaerock Lee's sermon. I was able to get answers to many of the questions I was curious about while listening to Dr. Lee's sermon. In the meantime, I have listened to many pastors' sermons, but I could not get the answers I was looking for. Dr. Lee's sermons led my faith, which was like a cloud of smoke, to a clear light.
I was so happy. Day and night, I listened to Dr. Jaerock Lee's sermons several times a day and began to summarize them.
As I got clear answers about salvation and sin, I gained the strength to cast off sins and overcome them. If I had not known the gospel of holiness, I would have been living in sin and going to hell.
I sincerely thank Dr. Lee for making me realize the sure providence of salvation and the purpose of life.

I started to evangelizing with the gospel of holiness. My brother and I had a dream of having a Manmin Church in Moldova, and God worked to make that dream come true. Moldova Manmin Church was established with the believers who received grace, and a branch church was also opened in Regina, another city.
The younger brother of a co-worker of Julia, a member of our church, was hospitalized, so we copied and delivered to him a copy of Dr. Jaerock Lee's book, 'The Message of the Cross'. After his discharge, he returned to Regina where he lived and put the book at home, when a woman living next door came to his house and found that book.
She was so amazed that she had seen that book in a dream and remembered it vividly. And after reading the book, 'The Message of the Cross', she received grace and contacted us. Since then, we have visited Regina City once a week to share the Word and pray. Since then, the group meeting has been active and the number of people has increased, so I go there every Sunday to worship and pray together.
In order to systematically learn the gospel of holiness, I completed the MIS(Manmin International Seminary) course for two years, and I went to Romania and Lithuania for work. There, I met local pastors and believers, preached the holiness gospel, and delivered Dr. Lee's books 'The Message of the Cross' and 'The Seven Churches'. I had fellowship with pastors and shared the various words such as 'The measures of faith' and 'Heaven' with them.
It was when I had a meeting with 6 Lithuanian pastors. The topic of the conversation was, 'Why did God give Job a refinement?' They shared their opinions, but in the end, they did not get an answer, and they said that the answer would only be known after going to heaven.
When it was my turn, I explained Job's refinement, God's providence of human cultivation, and the reason for putting the tree of knowledge of good and evil. Pastors were very happy that it was a great awakening, and I had a burning heart to preach this gospel more diligently.
We are translating the gospel of holiness into Romanian, and we are continuing to meet and deliver the book, 'The Message of the Cross' to Romanian pastors. We are also having fellowship with Italian pastors through the Word.

We can easily hear and see the gospel of holiness, which Dr. Jaerock Lee received through countless fasting and prayers. Preaching the gospel of holiness is my duty as a member of Manmin. The souls who hear it and realize the truth can have the hope of New Jerusalem, the most beautiful heaven.
Now, as a missionary of Manmin, I will do my best to spread the gospel of holiness to save many souls and lead them to New Jerusalem.